Active Lifestyle Lenses
Alcon ReSTOR® Lens
Patients who choose the Alcon ReSTOR® Lens for their cataract surgery are often able to enjoy a full range of vision without the need for spectacles. The Alcon ReSTOR® Lens has been uniquely designed to provide enhanced image quality and a full range of vision by using innovative technology with diffraction and apodization.
Diffraction involves the spreading of light as it passes through a lens. The center of the surface of the ReSTOR® lens consists of a series of tiny rings – this is known as an apodized diffractive optic. Apodization is the gradual tapering of different diffractive levels (or "steps") on a lens, creating a smooth transition of light between distant, intermediate and near focal points. The series of tiny steps in the center of the ReSTOR® lens work together to focus light, providing excellent near, intermediate, and distance vision.
Toric IOLs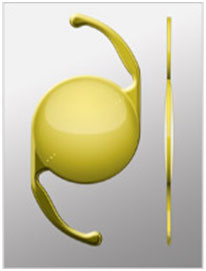 The Alcon AcrySof® Toric IOL is designed specifically for patients with both cataracts and astigmatism. By implanting a toric lens at the time of cataract surgery, your doctor can correct both problems at the same time. The toric lens has small markings that are aligned to match the axis of the patient's astigmatism and neutralize it. The AcrySof® Toric IOL also incorporates the enhanced image quality of an aspheric lens.
Crystalens®
The Crystalens® (Bausch & Lomb) employs an innovative design to mimic the eye's natural process called accommodation where the lens flexes to changes its point of focus from distance to near. This enables sharper vision at multiple distances for people who have undergone cataract surgery with the Crystalens®.
The Crystalens® has prolate aspheric surfaces, and no spherical aberration thereby providing a better quality of image for both distance and near vision compared to spherical IOL's. The Crystalens® improves the depth of field and yields excellent contrast sensitivity.